Not even when Diana Navarro came on stage, the Goya gala managed to remove the layer of solemnity, sobriety and elegance that overshadowed the entire ceremony. It is not something negative but it was strange because the artist came on stage with Carlos Latre transmuted into Pepe Isbert. They were there to kick off the 'Berlanga Year' and pay tribute to the filmmaker and while Latre was full of praise for the Valencian – «you created the Film Academy and without it there would not be these awards. "You were a reference without wanting to be," he went on to say, "the singer began with the first verses of 'Coplilla de las currencies', first on the piano, in a delicate way, then with the explosion of joy with the appearance of the Symphony Orchestra of Málaga and the great 'Americans, we receive you with joy', which gave so much joy to the spectators in 'Welcome Mr. Marshall'. It was strange, because although the theme invited the festive, the slab of solemnity was still there. Of course, we must not forget that everything took place in front of an empty theater.
And the staging was, at all times, superb. The screens fulfilled their purpose perfectly, but the choice of songs left something to be desired. Nathy Peluso He opened the performance with 'La violetera', the song by maestro José Padilla with lyrics by Eduardo Montesinos. Raquel Meller popularized it in Argentina, where she is originally from Peluso. Later, Sara Montiel would give another version for the film of the same name. She did not move or enchant, perhaps due to the excessive affectation in each of her verses. She most stirred, without a doubt, the interpretation of Vanesa Martin, which gave voice to 'In Memorian', the moment in which film professionals who disappeared in the last year are remembered. Martín sang 'A white cloud', the piece by Lluís Llach with lyrics by Ana Belén, while the stage was filled with beautiful digital trees. Verse by verse the images of those who died this year paraded. There were Juan Marsé, Elisenda Ribas, Luis Eduardo Aute, Gerardo Vera, Juan Carlos Tabío and Enrique San Francisco. Missing was Rosa María Sardá, who had expressly asked not to appear.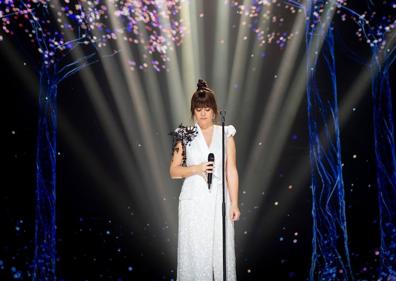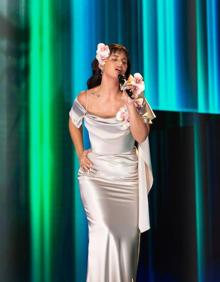 Without a doubt, that of the father It was the most interesting performance of the night. With a very jazzy touch, like a Hollywood musical, she performed 'Happy Days Are Here Again', the Barbra Streisand song, nailed, bordering on perfection, the final sustained and brought some luminosity to an overly solemn night.
Curiously, perhaps the stage performance that dazzled the most was that of ballet of the Higher School of Performing Arts of Málaga, that with palms, heels and red fans supported the entrance of Ángela Molina, deserving of the Goya of Honor. The image, in communion with that of the 166 nominees who applauded from their homes on the stage screens, was magical.