With more than 3,000 exhibiting companies in an area of ​​85,000 square meters of exhibition space divided into various pavilions and more than 200 scheduled activities, the businessmen who attend each edition of Alimentaria rate it as the second most important fair in Europe and the most prominent in the national territory. Held biennially, this year it took place from March 4 to 7 in Barcelona. Its format and distribution of spaces allows it to be classified as a fair divided into pavilions although it is not monographic, an interesting fact for the professional exhibitors who come from various countries, 52 specifically in this edition, where for the first time Brazil, Slovakia, Australia, Canada, United Arab Emirates and Puerto Rico.
All fairs are important for professionals, but for Extremaduran companies, attending them takes on a more important meaning because communications do not facilitate the commercial tasks of brands. You have to come to Extremadura, you can't go past it. «It involves work and a high cost because they are expensive cities where you have to stay on average for five days. This helps us to put both our product and the region on the market," explains Javier Muñoz, director of the Torta del Casar DOP. Fortunately, the perspective and image that people have of Extremadura changes over the years. The continuous demonstration of the quality of the products and the professionalism of the companies has achieved such an important milestone; Professional fairs have been the ideal setting to achieve this.
Roof

«We have been attending this fair as a designation of origin for many years because this way we provide coverage to the cheese factories and do promotional work. For us, having an institutional presence within Alimentaria is enough, but we do not develop the complete process of attracting customers, transferring data to the database, etc.," explains Javier Muñoz, director of Torta del Casar. They already did this work in the beginning and now they leave this role to the cheese factories registered in the DOP.
They do have to do precisely this work at Grupo Ibersano as it is a company. They make a positive assessment of their attendance at Alimentaria 2022 because during the four days of celebration they have received numerous visitors to their stand. "For us, participation in this type of fair is very important because it is a fundamental speaker for people to continue knowing, trying and hearing about our Iberian products," explains José María Ortiz, from the Ibersano Group. «It helps us to have direct contact with end customers and distributors. We export to several countries and the international nature of Alimentaria facilitates our commercial tasks throughout the sales cycle," he adds. On this occasion, the organization indicates, the show invited 1,400 key buyers, importers and distributors from Europe, Latin America and North America to carry out nearly 12,500 business meetings with companies.
The profitability of a fair is measured by various variables, and the role you decide to play as a company also influences them. «You have to be open to participating in activities framed in the official program, to receiving professional visits from all sectors. You have to be attentive to everything that happens around you because you can always discover new niches," they explain from Ibersano.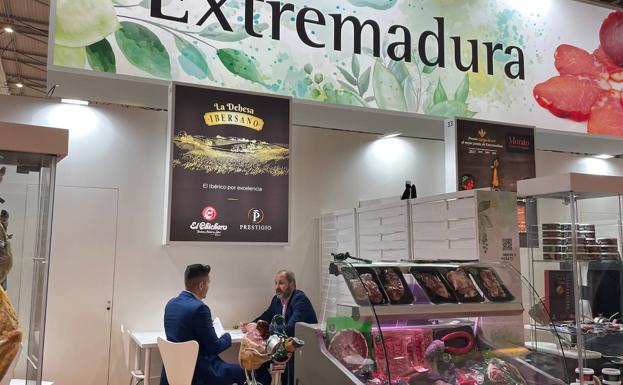 From Torta del Casar this year they have taken a further leap and have organized a commented tasting in the demonstration area where they offered their product and information to all interested parties who attended this scheduled event. «It is important because it is another way to attract attention. It's not just about trying the cheese as it happens at the stands, but you retain your attention for half an hour. "He listens and helps you understand the product," explains Muñoz.
Whether you attend as an exhibitor or as a visitor, Alimentaria represents a first contact, with weeks and months ahead to formalize possible commercial agreements.