The Extremadura Film Archive will broadcast the Saturday January 25 the XXXIV Goya Awards gala, in which Extremaduran productions 'Buñuel in the turtle labyrinth' y 'Our life as refugee children in Europe'are nominated in five categories.
«The Goyas are the festival of Spanish cinema. And this year, like many other years, they are the celebration of Extremaduran cinema, of cinema made here by people from here, stated the director of audiovisual media and of the Extremadura Film Library, Natalia Rodrigo.
«The film 'Buñuel in the Turtle Labyrinth' opt for four 'big heads': best animated film; best new direction; best original music and best adapted screenplay. And 'Our life as refugee children in Europe' is nominated in the best documentary short film category. We also want to be with them that day and enjoy the success that it already means to be there," stated the director of Audiovisual Media and the Film Library of Extremadura, Natalia Rodrigo, at the presentation of the screening that the Filmoteca will hold next Saturday, January 25, of the 34th edition of the Goya Awards.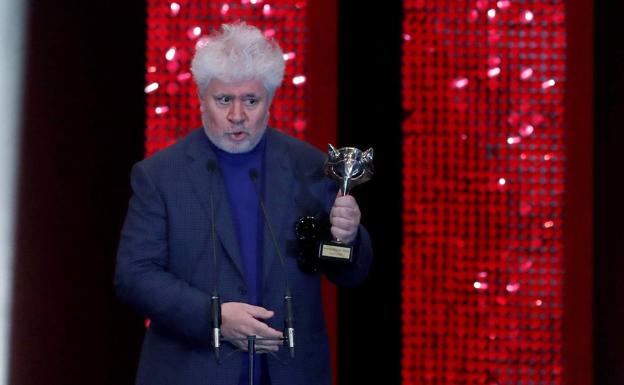 The institutional head of cinema in the region has announced that in this live broadcast, to which It will be freely accessible until capacity is reached.those responsible for both cinematographic works, creators and producers will be present.
"In addition, we will have the Goya that Luis Cuenca from Extremadura obtained in 1997 as best supporting actor for his role in 'The Good Life', with which attendees will be able to take a photo," said Rodrigo, who thanked the affection. of the family of Luis Cuenca by providing said Goya award for that day, as well as the Navalmoral de la Mata City Council for its collaboration.
"We will take care of him," she stated in a presentation in which she was accompanied by Fermin SolisExtremaduran illustrator responsible for the graphic work on which 'Buñuel in the Turtles' Labyrinth' is based and José María Fernández de Vegaproducer of 'The Glow Animation', producer of this work.
Both Solís and Fernández de Vega agreed to affirm their "satisfaction" for opting for four of the awards given by the Academy of Cinematographic Arts and Sciences, highlighting the recognition that this means for cinema and animation made in the region and praised the work carried out by all those who have participated in this Extremaduran cultural production.