Claimant and with Spanish signature. This has been the red carpet of the 33rd edition of the Goya Awards. Demanding because there have been many who have posed upon arrival at the Palace of Congresses and Exhibitions (Fibes) in Seville with red fans to protest against sexist violence and demand the increase in the female presence in the world of cinema. It was the Association of Women Filmmakers and Audiovisual Media (CIMA) that distributed 2,500 fans with two slogans: #Niunamenos and #Másmujeres.
And with a Spanish signature because many of the actors and actresses who have walked the carpet have done so dressed by Spanish designers. Thus, Silvia Abril and Andreu Buenafuente have worn an exclusive custom-made dress by Nacho Aguayo for Pedro del Hierro and a Toque de Sastre suit, respectively, and they will also have several costume changes throughout the ceremony. The presenter will wear looks by Teresa Helbig, Fernando Claro, Duyos and Yolancris; shoes by Úrsula Mascaró and jewelry by Bárcena, Suárez and Anton Heunis.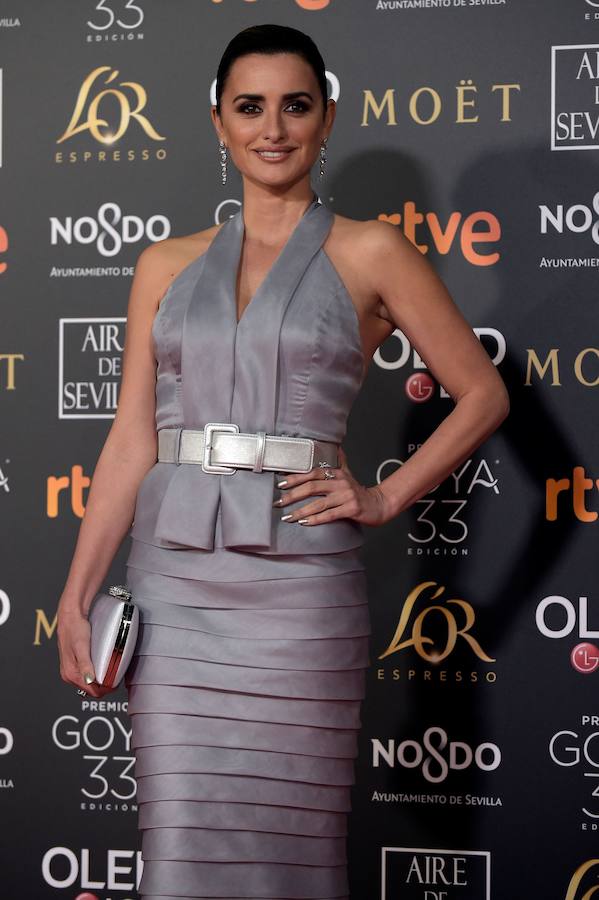 Ana Locking, Paco Varela, Vicky Martin Berrocal, Rosa Clará, Agatha Ruiz de la Prada, Benjamin Friman, Santos Costura, Lander Urquijo, Adolfo Domínguez, Alejandro Postigo, García Madrid and Roberto Verino, Martinelli, Bárcena and Vicky Martin Berrocal are some of the brands and designers that have dressed the nominees, presenters, presenters and guests of the 33rd edition of the awards.
Thus, Lola Dueñas was dressed in an Eduardo Andes dress, with Luisa Rosas jewelry and Manolo Blahnik shoes. Lucía Jiménez, with a design by Santos Costura, Bárcena jewelry, Yliana Yepez clutch and aquazzura shoes. Ana Álvarez has walked the red carpet with a Rosa Clará look and Bvlgari jewelry. Ana Wagener, for her part, went with a Cuple dress and shoes, Bárcena jewelry and a Jimmy Choo bag.
Other of the most notable have been Belén Cuesta, with a dress with an impressive neckline by Oscar de la Renta, or Macarena Gómez, with an original model by Teresa Helbig in black and white with a hood. Some, however, have opted for international couturiers. This is the case of the model with which Silvia Abascal can be seen, who has chosen Marchesa, the brand of Georgina Chapman, ex-wife of the Hollywood producer accused of sexual abuse Harvey Weistein.
You can also see models and accessories from international brands Dolce&Gabanna, Jimmy Choo, Oscar de la Renta, Yves Saint Laurent, Hackett London; Armani, Christian Dior, Louboutin, Carolina Herrera.
Among politicians, the Minister of Education and Culture, José Guirao, has gone with a 'total look' by Ana Locking. Former model Nieves Ávarez did not disappoint with an Ellie Saab design with a halter neck, nor did Belén Rueda, who opted for white and the Spanish designer Benjamín Friman.
Among the men, one of the most daring has been Eduardo Casanova, with a black jacket with satin details and silver double-breasted buttons and a white shirt with a pronounced neckline.